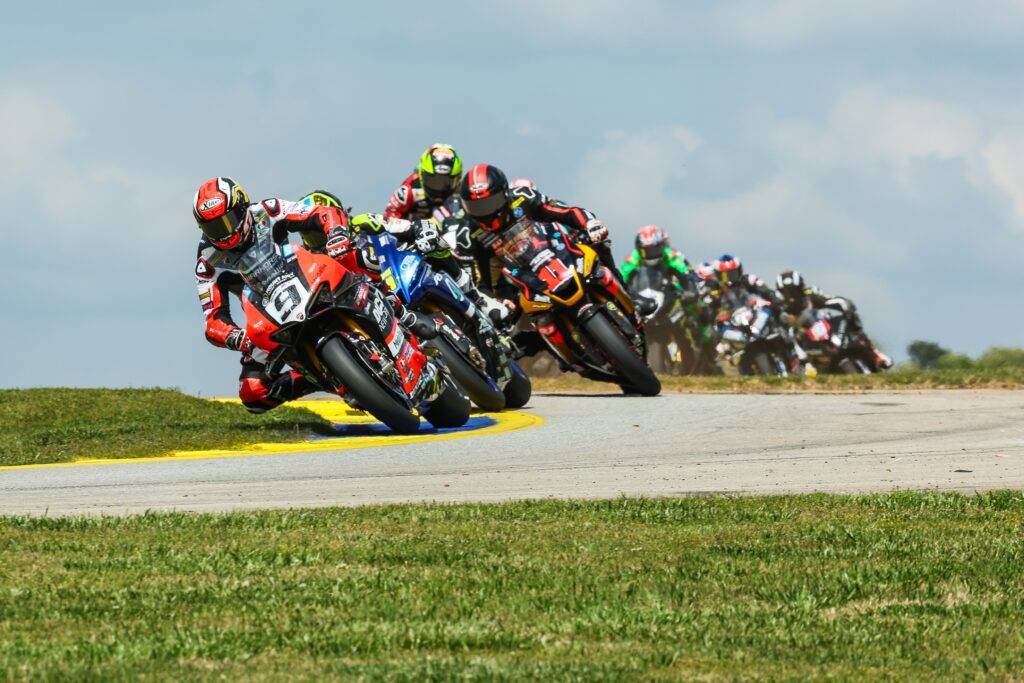 The following is from Ducati…
Danilo Petrucci (Warhorse HSBK Racing Ducati NYC) rode the emotional roller-coaster at Road Atlanta this weekend, taking a resounding three victories in a row with race one but suffering the heartache of a mechanical DNF while starting second in race two.
On the Italian's first visit to the world-famous racing venue, Petrucci took the first race win over Mathew Scholtz (Yamaha) after Jake Gagne (Yamaha) crashed out of the lead, perching him on a perfect 75 points in the championship.
That was to be the high point of the weekend as race two saw a series of delays, first caused by a rider crashing and causing a red flag. The long delays on the grid provided the perfect conditions for a mechanical problem, and Petrucci was out of the race on lap two with a DNF.
Despite the DNF, luck still smiled on Petrucci and the Warhorse HSBK Racing Ducati NYC team as Scholtz also failed to finish, meaning Petrucci still leads the championship heading into round three at VIRginia International Raceway in three weeks' time.
2022 MotoAmerica Superbike Championship Standing – Top 5
P1 – Danilo Petrucci (Ducati) 75
P2 – Mathew Scholtz (Yamaha) 60
P3 – Cameron Petersen (Yamaha) 49
P4 – Hector Barbera (Ducati) 46
P5 – Richie Escalante (Suzuki) 42
Danilo Petrucci (Warhorse HSBK Racing Ducati NYC – Ducati #9): "It was a disappointing Sunday," Petrucci said after race two. "I did the best lap time in the warm-up, and I was ready to race but because of delays we idled the engine for too long and suffered a terminal engine problem. It's quite sad to lose a race this way."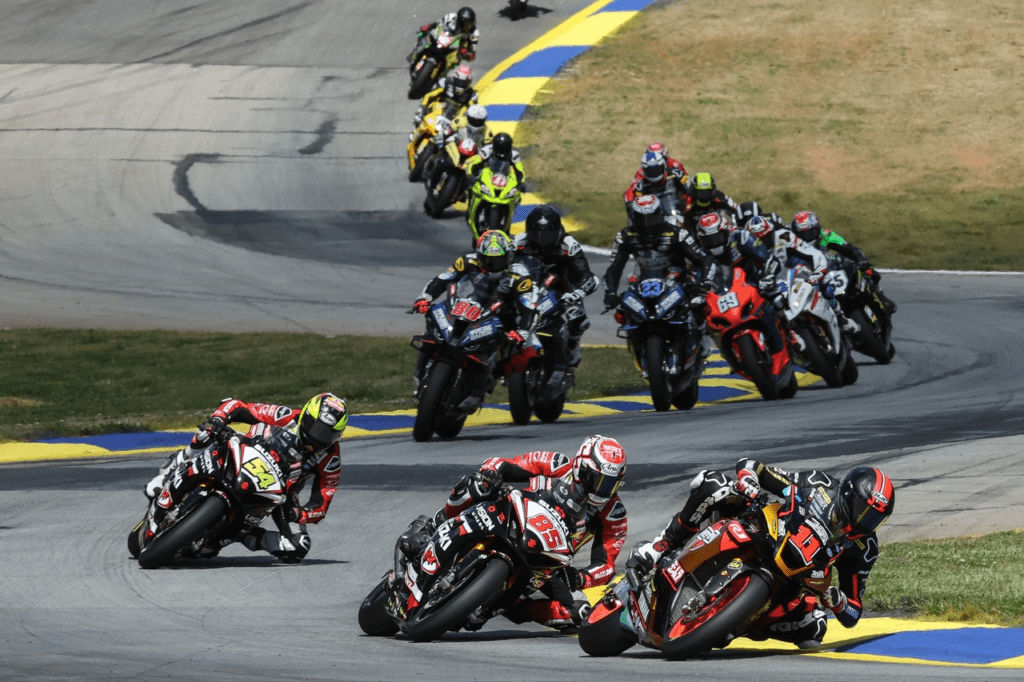 The following is from Westby Racing…
After going fifth-fastest in Sunday morning warmup, Westby Racing Superbike rider Mathew Scholtz was poised for a spot on the podium in the afternoon's Superbike race. Unfortunately, things didn't go to plan, and he was unable to finish the race aboard his Yamaha YZF-R1 Superbike.
After two red flags, the race was re-started, and Mathew got off the line well. He slotted into third on the opening lap, but on the second lap, he unfortunately had a tipover. He re-mounted, re-joined the race in 20th position, and began moving through the field with a plan to salvage as many points as he could. Mathew made it forward to 16th, but he ultimately returned to the pits on lap 11 and retired from the race.
All in all, it was a tough way to end the weekend at his home track, especially after finishing second in Saturday's race one. One consolation, however, is that, despite the DNF on Sunday, Mathew is still second in the championship point standings.
The Westby Racing team will be back in action for round three of the 2022 MotoAmerica Superbike Championship, which takes place at VIRginia International Raceway in Alton, Virginia, on May 20 through 22.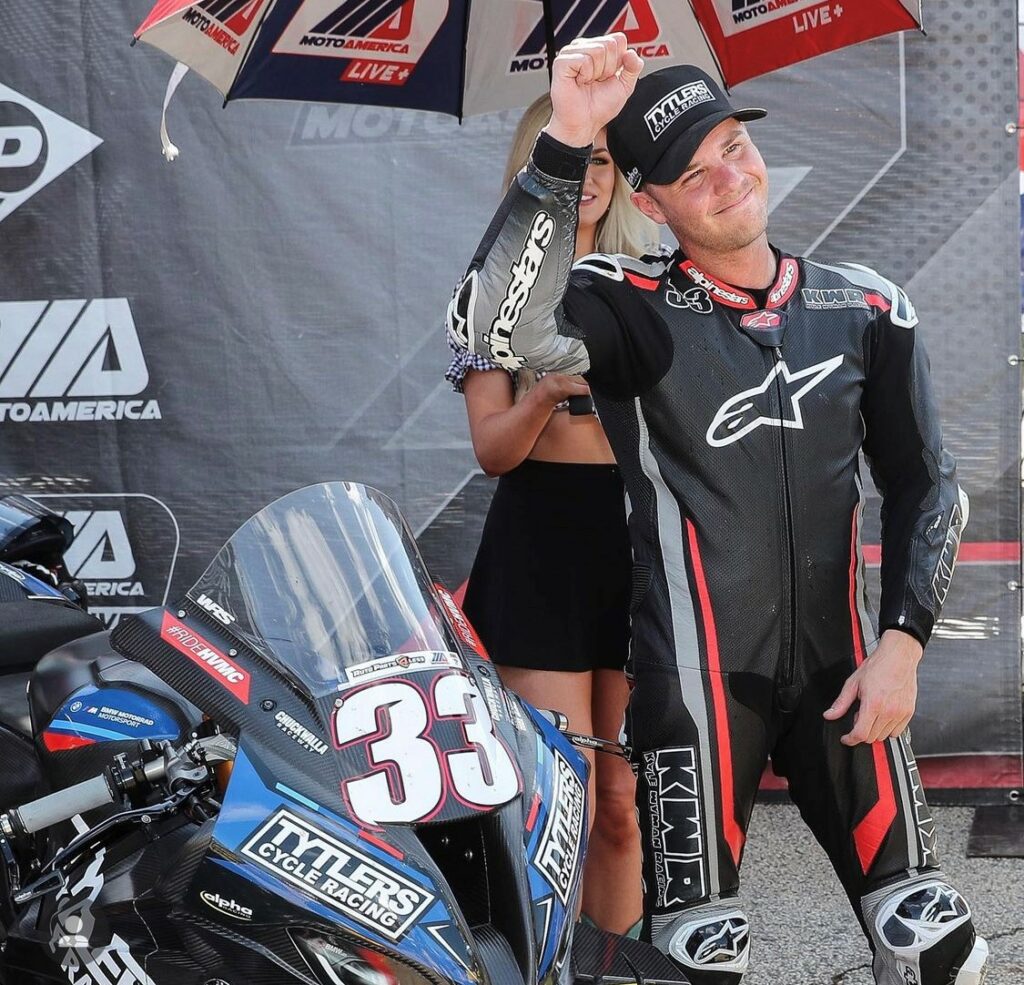 The following is from Tytlers Cycle Racing…
It was a successful second round of the 2022 MotoAmerica Superbike championship for the Tytlers Cycle Racing team at Road Atlanta, the squad coming away with a podium, two fourth places and a sixth position from the two races courtesy of riders Hector Barbera and Kyle Wyman, who was drafted in at the last minute to replace PJ Jacobsen who was forced to miss the event through sickness. 
 
Spanish rider Barbera was once again in the mix from the opening session of the event, eventually qualifying fifth before racing to a double P4 finish. The results elevated the #80 into fourth overall after the opening four races. 
 
Former Superbike racer Kyle Wyman was an obvious choice for the team when it was clear that PJ Jacobsen would be unable to take part in the weekend. Kyle took full advantage of the opportunity, powering to a podium finish in third on Sunday, the first for the all-new BMW M1000 RR in a Superbike race in the US, after an impressive sixth on Saturday. 
 
Stock1000 riders Corey Alexander and Travis Wyman were also in action in both Superbike races. The pair finished seventh and tenth in the opening nineteen lap encounter before crossing the line sixth and eighth in race two, respectively. 
 
The third round of the series is at VIR in three weeks.
Hector Barbera: "I was happy with the weekend. We are not 100% in terms of the setting I need but we are not too far away. It was good to be able to fight for the podium and the team is working fantastic. In race two I finished fourth again and whilst I am happy for the team of course I am a little disappointed that I missed the podium again after being so close. The BMW M 1000 RR is a great bike, but I was losing too much time in the first sector but it's all part of the learning process that me and the team are going through. We have a test before VIR, and I am confident that we will make another step there and be even stronger in the next races."
Kyle Wyman: "I am super happy and still in a little bit of disbelief after the result in race two on Sunday. Prior to the weekend I had no idea that I would be back on the Superbike grid. I was unable to sleep much no Thursday night, thinking about so many things and I am just so glad that it all worked out. It was a pleasure to work with the entire team. We made a lot of changes and by the time we lined up for race two it was a completely different motorcycle than I had ridden earlier in the weekend. I had a great start, but the red flag was a bit of a blessing to be honest and I think it helped as I time during the stoppage to understand that I could push from the off. I had a great battle with Hector and Richie. It went down to the wire, and I was able to hang on and take the final spot on the podium. I am so grateful for the opportunity and to be able to give the team their first superbike podium is great. It's never nice to have to replace an injured or sick rider and I hope that PJ is healthy for VIR, and I wish him and the team all the best for the rest of the season."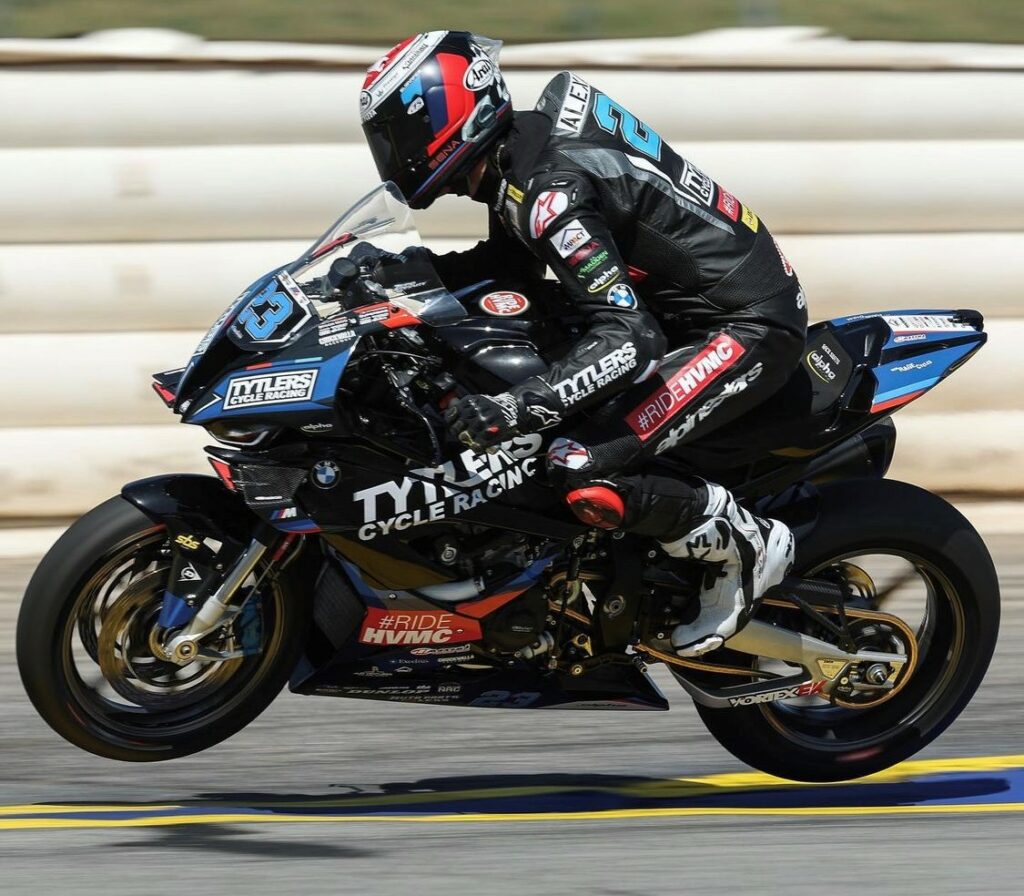 The following is from Tytlers Cycle/RideHVMC Racing…
The Tytlers Cycle/Ride HVMC Racing trio of Corey Alexander, Travis Wyman, and Zac Schumacher kickstarted their 2022 Stock1000 campaign in fine style at Road Atlanta this past weekend, securing the win, third and fourteenth respectively in what was a dream start for the newly created squad. 
 
Ahead of the opening round of the championship, optimism was high for the team who had signed two of the leading riders from the previous editions of the series (Alexander and Wyman) and the promising talent of Schumacher. 
 
It was clear from Friday's FP1 that all three riders would be competitive and when the lights went out, they didn't disappoint.
 
Zac rode confidently to secure P14 at the flag after coming out on top of his own personal four-way battle, with Wyman crossing the line third, comfortably ahead of his pursuers. 
 
For Corey Alexander it was a dream start to the 2022 season. The #23 crossed the line to win on his debut with the BMW M 1000 RR by 0.001s. The closest finish in MotoAmerica history! 
 
With confidence soaring the team heads to VIR in a couple of weeks for Round 2. 
Corey Alexander: "Overall the weekend has been extremely positive. We started with a different set-up to what we had at COTA and the bike was immediately better in terms of the base setting. We kept chipping away and set a new lap record in practice and again in qualifying so I knew we would be competitive in the race. The race was a bit tougher than expected. I thought we could create a little gap, but I struggled a bit with grip. To narrowly edge the win at the line is great for me and the team and I am excited to move onto VIR which is one of my favorite tracks."
Travis Wyman: "The Stock1000 race went great. I got a good start and was able to hang with Corey at the beginning but fell away a little in the second half. I was able to manage the gap to the guys behind and was able to bring it home on the podium. I am super happy with the podium even though I wanted more. I am sure we will be stronger in the next races."
Zac Schumacher: "The opening race of the season went really well considering it was my first time racing the bike and my first time at Road Atlanta. I know I can do better than fourteenth but it's a good start and something we can build on. I am looking forward to the next round and I want to say a big thanks to all the crew who did an awesome job all weekend."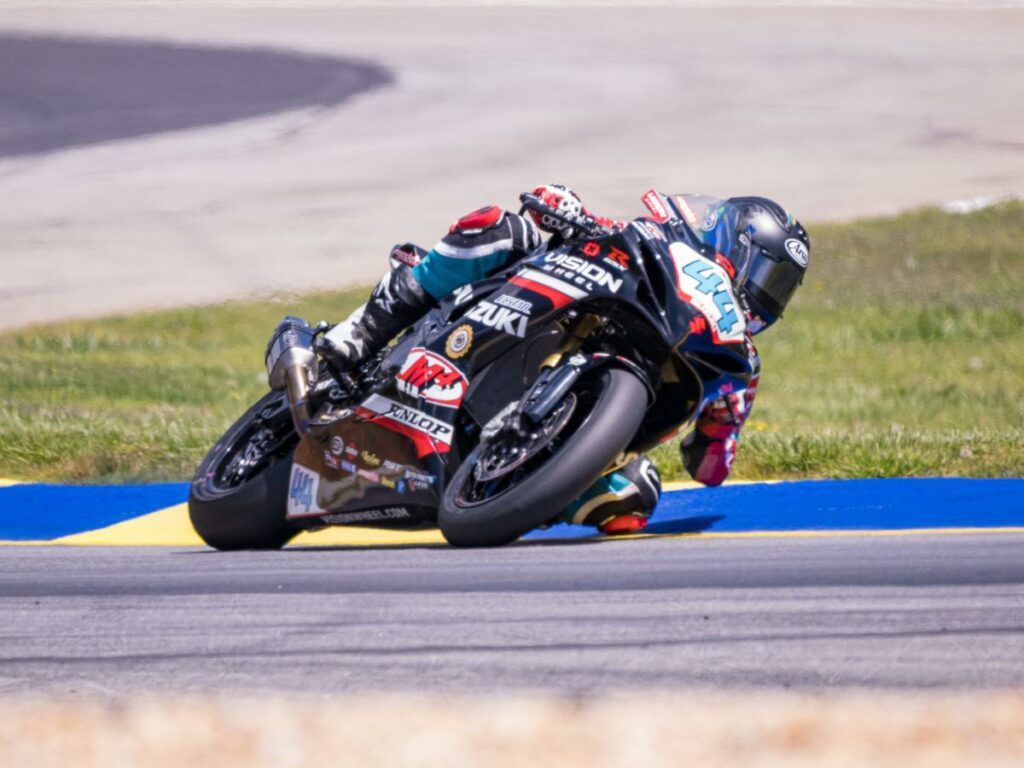 The following is from Team Hammer…
Suzuki Motor USA and Team Hammer added a third podium finish on Sunday to conclude an all-around strong performance at Road Atlanta, Round 3 of the 2022 MotoAmerica AMA/FIM North American Road Racing Championship season.
MotoAmerica Supersport title fighter Sam Lochoff again demonstrated the speed to battle for wins aboard the new Vision Wheel M4 ECSTAR Suzuki GSX-R750. The South African battled his way up from the second row to quickly seize control of second and then made serious inroads on the race leader.
Lochoff's charge was halted when a mishap through the esses cost him a couple seconds, but he kept his head, regrouped, and powered his way to a second runner-up finish this weekend.
After getting his race weekend on the GSX-R750 under his belt, Lochoff came away impressed and excited about its potential. He said, "I'm taking nothing but positives from the weekend. I'm extremely happy with the bike. We struggled with it a little bit in the first session but we've been making constant progress.
"I want to thank Vision Wheel M4 ECSTAR Suzuki powered by Team Hammer. They've been working day and night to get this bike sorted. Last year, we finished third in the championship and so far we haven't finished worse than second, so I can't wait to see how this season continues."
Lochoff's 16-year-old teammate, Tyler Scott, again demonstrated his mammoth potential and this time earned the checkered flag. The Vision Wheel M4 ECSTAR Suzuki rookie charged his way up to fourth and had third in his sights prior to a short offtrack excursion. Like Lochoff, he managed the drama well and ultimately snared a top-five result in his Team Hammer debut.
The team's third Supersport pilot, Liam Grant, also improved on his Saturday results, picking up 12th in the rematch.
Meanwhile, MotoAmerica Superbike rookie Richie Escalante continued his promising premier class performances with a third-consecutive top five as he quickly comes to grips with the speed, power, and talent of the category.
The Mexican battled for the podium throughout the once-stopped-and-restarted affair aboard his Vision Wheel M4 ECSTAR Suzuki GSX-R1000R, coming home a close fifth after making a late push for the box.
"So far, so good," Escalante said. "For sure, I'm learning every lap and that's the most important thing. Two top fives is good for the championship. I need to learn more to understand the big bike better, but I'm super happy with the Vision Wheel M4 ECSTAR Suzuki team and my crew. I want to continue to fight for the podium, so we'll keep working as we get ready for some of my favorite tracks."
Teammate Jake Lewis wasn't so lucky in his follow-up to yesterday's welcome return to the Superbike podium. The Kentuckian got away from the original start in fifth, but was forced to line up for the restart from the back of the field after leaving pit lane just over a second late. Still, he managed to fight his way from last to seventh position before his race ended prematurely due to a mechanical issue. Team Hammer will return to action in just under a month, as the '22 MotoAmerica slate resumes at Virginia International Raceway, in Alton, Virginia, on May 20-22.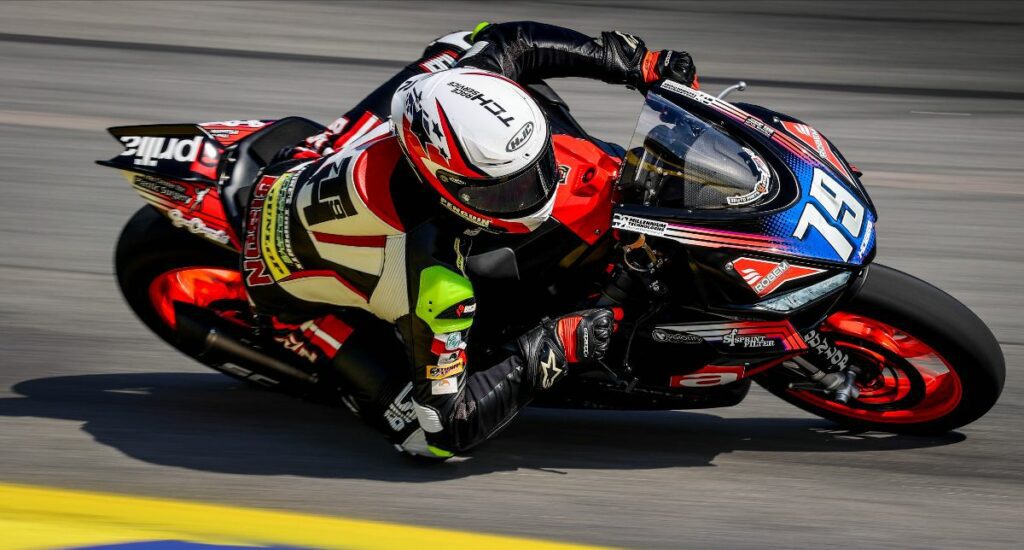 The following is from Robem Engineering…
When the Aprilia RS 660 made its debut in the MotoAmerica Twins Cup last year at Road Atlanta, two Robem Engineering riders were part of an all-Aprilia podium in the motorcycle's first race. This year's MotoAmerica event at Road Atlanta featured similar results, as Robem Engineering Aprilia's Teagg Hobbs and Ben Gloddy finished second and third Sunday in the round's lone Twins Cup contest.
It was Hobbs' second runner-up finish in three races with the Robem Engineering team, and he's now just 3 points behind the class leader in the battle for the 2022 MotoAmerica Twins Cup title. Gloddy greatly improved his bid for the 2022 title at Road Atlanta, as he moved up from 12th to seventh in the points standings.
Hobbs showed excellent pace from the first on-track session of the event. He was the second fastest rider in Twins Cup Friday practice and missed out on the top spot in Qualifying 1 by 0.003 seconds. Gloddy finished practice ninth fastest but upped his pace for Qualifying 1. He wrapped up that session in fourth place and improved his best lap time by nearly three seconds.
Qualifying for the Twins Cup concluded Saturday morning with both riders finishing in the top four. Hobbs struggled through the early part of the session but missed out on pole position by a mere 0.025 seconds. Gloddy finished Qualifying 2 in fourth place and further improved his best lap time by about half a second.
Sunday's race featured Hobbs locked in a race-long battle for the race lead, while Gloddy came out on top in a multi-bike battle for the last step on the podium. Both riders got good starts on Sunday when racing kicked off at about noontime, but the contest was stopped before one lap was completed due to a series of crashes.
When the race restarted, Hobbs and the race leader got good starts, and Gloddy slipped down the running order several positions on the first lap. As Hobbs and another Aprilia rider took turns leading the race, Gloddy kept his composure and worked his way to the front of the battle for third place. Hobbs made a valiant effort to hold onto the race lead but had to settle for a runner-up finish by a margin of 0.073 seconds. Gloddy was battling hard for third until the last lap and claimed his first MotoAmerica Twins Cup podium by 0.223 seconds.
The Robem Engineering team has three weeks to prepare for the next MotoAmerica round, which takes place May 20-22 at VIRginia International Raceway in Alton, Va.
Teagg Hobbs / No. 79
"The team really did their job this weekend. We made progress on our setup every session, and the Robem Engineering team had my Aprilia on point for today's race. We did what we needed to do this weekend to get a bunch more valuable championship points. It's still early in the season. We're in this for long run, and finishes like this are just part of the process."
Ben Gloddy / No. 72
"We started the weekend with a pretty good setup on our Aprilia. We struggled with getting the bike to turn early in the weekend, but we got that sorted out in time for the race. I'm really happy to be on the podium here at Road Atlanta. If we keep working like this, I think we'll be good to go for the rest of the season. We've found a good base setup that I think will transfer over to VIR nicely." Robem Engineering's technical partners for 2022 include Aprilia Racing, Piaggio Group Americas, The Center for Plastic Surgery, Synchrony, Velocity Calibrations, Bitubo Suspension, Woodcraft Technologies, Dymag, Vesrah, Sprint Filter, DID, Magura USA, Sara Chappell Photos, NGK/NTK, Blud Lubricants, Millennium Technologies, Motovation USA and SC-Project.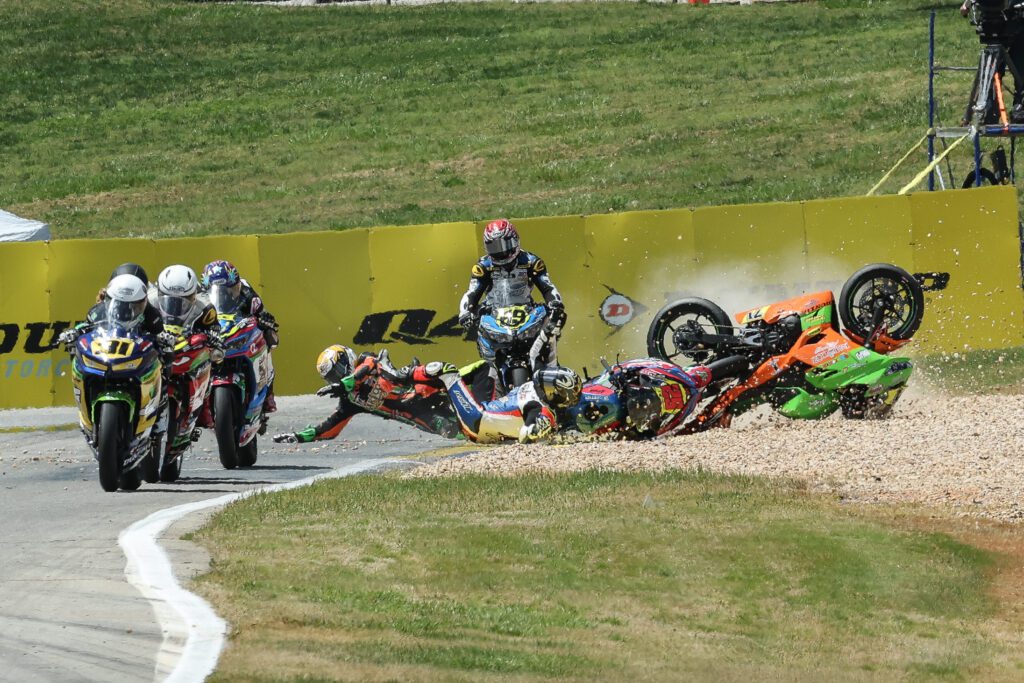 The following is from Levi Badie Racing…
Despite not finishing both races Levi Badie, the first Belgian rider to race in the MotoAmerica, is a contender for MotoAmerica Junior Cup championship glory after an impressive series debut at Road Atlanta.
The teenager, who had never ridden outside of Europe or on Dunlop Tyres prior to the opening round of the series was a front runner from the off, claiming a sensational Pole Position on Saturday afternoon, much to the delight of his new Bartcon Racing team.
Race one saw Badie hit the front early on, the #71 confidently responding to the attacks from either side. Unfortunately, he slid out of the lead in the first third of the race.
Race two was another frantic affair, with Levi involved in a multi-rider fight for the win for the second consecutive day. In the mix until the final corner of the final lap, Badie went down again, thankfully without injury.
Understandably disappointed, Levi is already focused on round two of the series which takes place at VIR in Virginia where he hopes to once again show his ability to run at the front at what will be another new circuit for him.
Levi Badie: "What a weekend. Qualifying went great and I felt so confident than on Friday. It was only my third session on the track, and I had so much to learn, and the surface was so different to what I am used to in Europe. I did my own thing and just tried to follow some of the faster guys and in the end the lap came together. To get Pole Position was like a dream and I was so ready for the races. I made a good start in both races and felt good and honestly have no idea why I lost the front in race one as I didn't do anything differently. I was surprised but didn't have much time to think as I needed to regroup for Sunday's race. I made another good start in race two, but the gearing was a bit too short which meant I had to push a bit harder in the corners. It was a bit frustrating but because I had done the qualifying alone and so it caught us a bit off guard, but that's racing. I was giving it everything to make up the time I was losing on the corners and out of the last corner I lost the rear and unfortunately made contact with another rider, and we went down again. It was a silly mistake, and I am angry, and the team also are not happy but all I can do is focus on round two and come back stronger. I love being in the MotoAmerica series and I am already feeling so at home with the Bartcon Racing team – they are an amazing group of people, and I can't thank them enough for everything."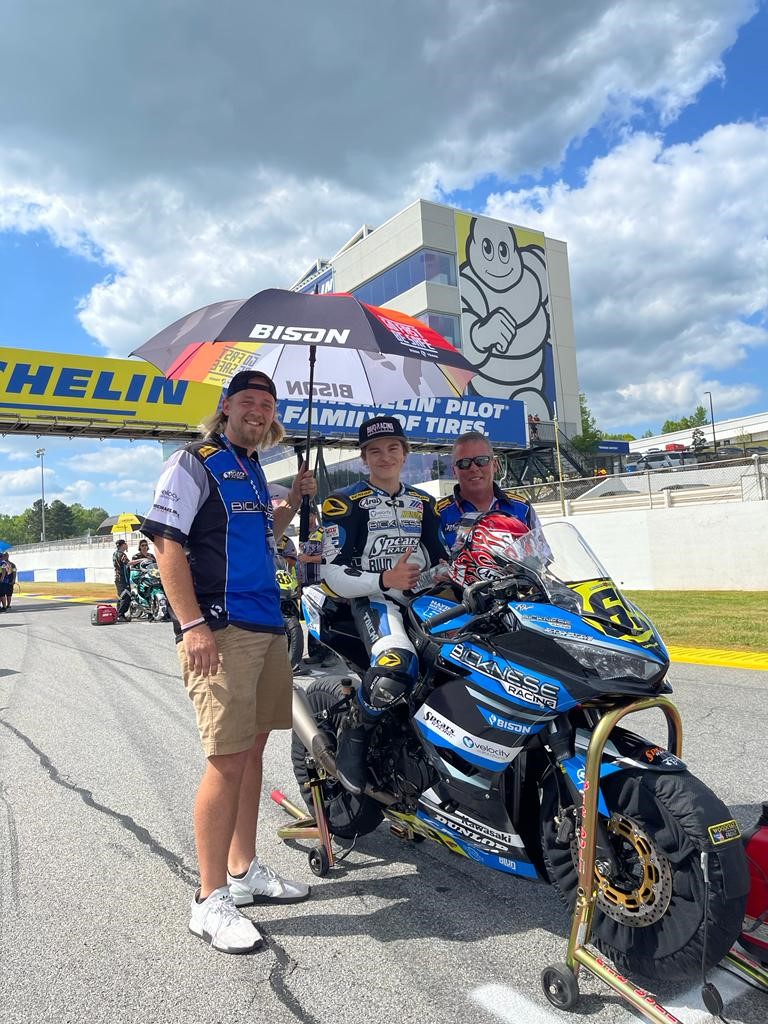 The following is from Hayden Bicknese
Hayden Bicknese kickstarted his 2022 MotoAmerica Junior Cup campaign in fine style at Road Atlanta, racing to a sixth-place finish on Saturday before fighting for the win on Sunday.
Qualifying on row three, the talented teen rode a strong race in the opening race of the season. Sunday saw another huge step forward for the #69 who was part of the leading group from lights out. Unfortunately, he was taken out on the exit of the final corner after one of the most chaotic final laps in Junior Cup history that saw several riders fall and several receive penalties. Bicknese was able to remount, crossing the line in fourteenth to salvage two valuable championship points.

The second round of the series takes place at VIR in a couple of weeks.
Hayden Bicknese: "Qualifying went well and I was happy with the lap time as I did it alone, with no draft or tow from anyone. We made a gearing change before the race which gave me a bit more confidence before lights out. I was able to stay with the group for the whole of race one but couldn't pass anyone due to the gearing. On Sunday we had a good warm up. We changed the gearing again and I was really looking forward to the race. I held my position from the start and was involved in a huge fight for the podium. I need to be a bit more aggressive, but I showed I was able to run the pace fighting for the win. Two riders crashed out of the last corner in front of me and I had nowhere to go and unfortunately, I went down too which sucks but that's racing. I was able to pick the bike up and finished P14. Overall, it was a good first round and I am looking forward to the next race at VIR."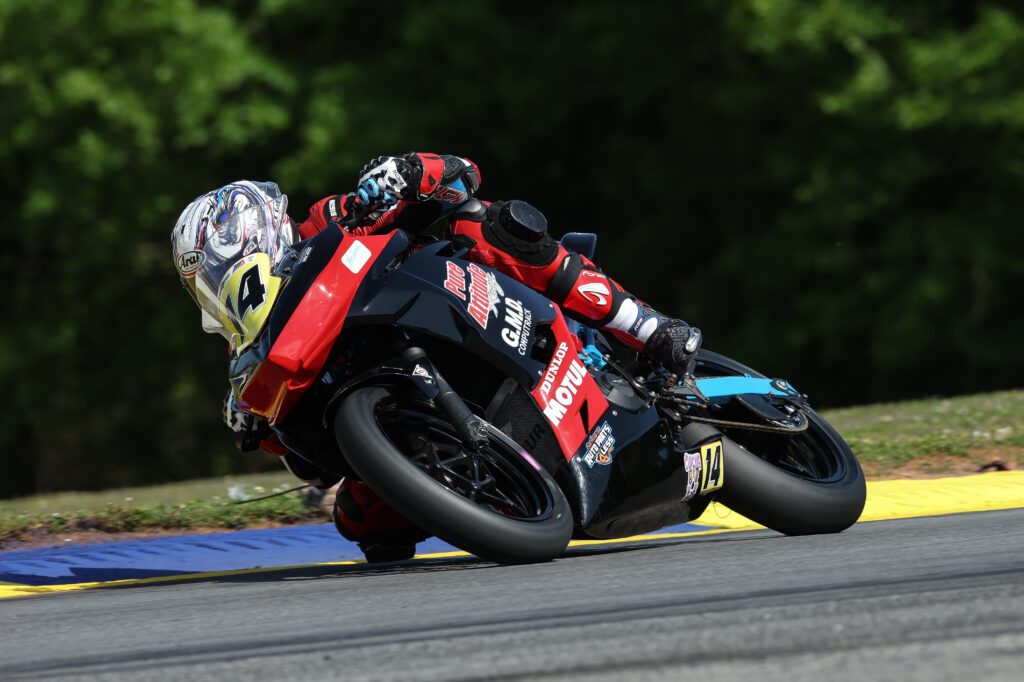 The following is from Pure Attitude Racing…
Pure Attitude Racing were back on track this past weekend at Road Atlanta, their home race and all three riders – Chase Black, Trevor Standish and Liam MacDonald didn't disappoint.
Point scoring results from all three cemented what was a solid MotoAmerica round for the squad who continue to work through their development program with their new Yamaha R7 machines in the Twins Cup, whilst at the same time welcome in their youngest rider Chase Black.
Teenager Black settled into his new team environment superbly, taking advice from his more experienced team mates and remaining calm and positive despite some technical issues that were out of his control. His reward? A double top ten finish of which the team are proud of.
Twins Cup in 2022 is fierce in terms of competition and after being on the back foot at the season opener in Daytona (due to supply chain issues outside of the team's control), both Liam and Trevor were able to finally get some seat time with a much more competitive machine underneath them. The target for the pair was consistently improve throughout the weekend, which they did, and to bring home a double points finish for the team, which they also did.
The next round of the MotoAmerica series takes place at VIR where Pure Attitude Racing will bring further upgrades to both of their racing programs and look to put themselves back in the podium mix.
Chase Black: "It was a pretty good first race. I finished tenth despite some issues which meant I couldn't make the passes when I needed to after I made a bad start, but it was good to get the first race over with and score some points. In Sunday's second race I also didn't get the start that I wanted, and we still had bike issues. I am leaving Road Atlanta with a double top ten and solid points and so I have to be happy with that. We will fix the bike for VIR, and I am confident to go better there."
Trevor Standish: "I knew a needed a good start and after some changes between warm-up and the race I had a much better feeling. In the first start I passed a few people but there was a red flag. I made another good start in the restart and was aggressive into turn one. I was battling for twelfth but was able to finish eleventh and score my first points of the season. I did all I could, and it was a mental win to come out on top of my own personal battle. I am really looking forward to VIR, but nothing can compare with the home crowd who gave me such a positive lift all weekend."
Liam MacDonald: "I am a little frustrated. The bike is heading in the right direction but off the start I almost hit the back of a guy ahead of me after he had an issue. Once things settled down, I was completely alone and had no draft so was losing a lot on speed. The team did a fantastic job compared to Daytona in terms of the bike's performance, but we are still lacking a little here and there but overall, I am happy with how the weekend went. I am part of a great team, and we know we have top ten potential, we just have to put all the pieces together. I am looking forward to VIR and to making another step closer to the front."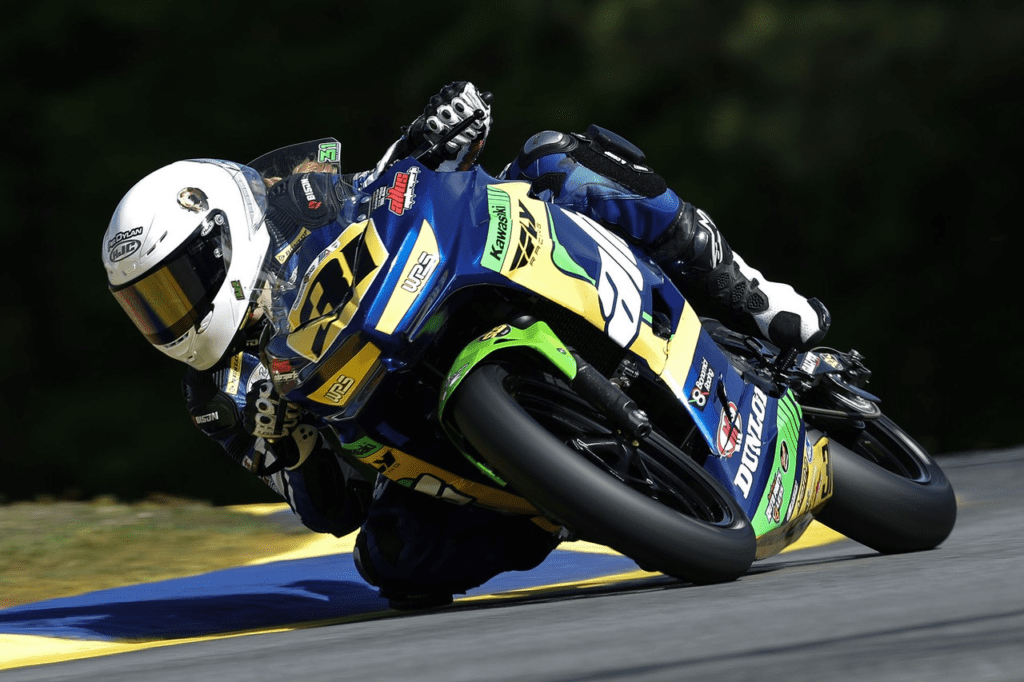 The following is from Altus Motorsports…
The first full round of the 2022 MotoAmerica season brought mixed results for the Altus Motorsports team. "In spite of some first-race-of-the-season ups and downs, we believe that this was a great weekend for the team. This year's group of riders and mechanics have already started to gel and it makes for a great environment. Plus the fan turnout was truly amazing – the most I have ever seen in Atlanta. That bodes well for our sport!" said team owner George Nassaney,
Superbike Cup & Stock 1000
Brandon Paasch was forced to miss the races at Circuit of the Americas due to an injury. While the extra few weeks off gave him time to heal, he was then struck with a case of the flu just before arriving in Atlanta – a notoriously physical circuit. On top of that, this is Paasch's first year on a liter bike. So Brandon went into Friday practice, hurt, sick, and on a learning curve. Considering all that, finishing the first Superbike race in 13th after starting 18th was quite a feat.
Unfortunately, Race 2 didn't go Brandon's way when a leak in his radiator (from a wayward rock) caused a lowside crash on the second lap. Stock 1000 only had a single race at Road Atlanta. Paasch started the race from 9th and held on for an 8th place finish. "Big thanks to the whole Altus Motorsports WPS Fly Racing team for all their help this weekend and getting me back on track to start the learning curve on the 1000," said Brandon Paasch.
Supersport
Jaret Nassaney put in a lot of work in the off-season and showed up in Atlanta ready to build on the progress he showed last season. The team got new, MotoAmerica spec engines just before the round so Jaret spent Friday getting used to the characteristics of the new motor. Nassaney started both Races from 10th on the grid.
The first Supersport race was red-flagged and, unfortunately, on the restart his clutch went out. The best he could manage was 11th. After an amazing launch in Race 2, Jaret lost a few spots with a suboptimal rear tire temp, but, once the tire came up to temp, he got down to pace. He managed to get up to 6th place before losing rear grip. Ultimately, he gave those two spots back and finished 8th.
"It was a great weekend. I liked the new motor. We got some decent results, considering a few issues and I am looking forward to VIR," said Jaret Nassaney
Justin Jones spent first practice and Q1 getting better acquainted with the GSX-R600 and reacquainted with Road Atlanta – a track he has not been to in 8 years. After Q1, Jones and Crew Chief Eric Gray reviewed the data and identified the first sector as the biggest opportunity for improvement in Saturday's Q2 session. Qualifying 2 was going great until a massive high side in turn 12 ended the session early leaving him and the bike a bit battered. In spite of that, Jones managed to qualify 14th for both Supersport races. The mechanics got the bike back together and MotoAmerica's medical cleared him to race.
The first race was red-flagged and eventually restarted. By the time that race was over, Jones was suffering with quite a bit of pain and was happy just to bring the bike home in 15th. In Race 2 on Sunday, Justin got a good start and was competing for 10th before the adrenaline wore off and things started to hurt. He backed off, conserved energy, and crossed the line in 13th.
"What a weekend with my new team. I can't thank Altus Motorsports enough. I had a pretty good feeling on the bike all weekend but it's been almost a decade since I've been on Road Atlanta. It's a technical track and it took me a few sessions to get it figured out again. Huge thanks to Eric Gray for putting me on the right track and the mechanics for putting the bike back together after the wreck," said Justin Jones. "I had a lot to overcome this weekend and I know I'm better than the results we came away with. I'm super happy with how the weekend went otherwise and I'm looking forward to VIR!". 
Junior Cup
Kayla Yaakov and Altus Motorsports have a shared goal this year: to consistently be on the box. In Atlanta, Kayla showed she has the ability to do that. Kayla started both Junior Cup races from 7th spot. In the first race, she went with the leading group and consistently ran in the top 5 spots and challenged for the podium positions. In the end, she finished in 4th.
In Race 2, she again ran with the lead group of 8 riders. On lap six, she took the lead for the first time. That was the beginning of her tenacious battle for the win. At times shuffled back as far as 6th, she repeatedly fought back into first. She demonstrated incredible guts and skill passing multiple riders into turn 10 almost every lap. Kayla crossed the line in first after a nail-biting final lap but, along with several other riders, was penalized two positions due to passing under an unseen yellow flag.  
"This weekend was amazing, but a rollercoaster of emotions to say the least. Our qualifying was good, and we were able to be in the front group. These were two keys things that I had been working on in the off-season, so to see this improvement was great. I had a great race pace, and I was able to consistently stay and fight in the front group. We came across the line in first, and either way, it was a dream come true. I had no set expectations for my first round with the Altus Motorsports crew, but I think we set the tone for the rest of the season. Hopefully, in the rounds going forward, we can keep improving and having fun! I can't wait for VIR!" said Kayla Yaakov
"I would say this was a very successful weekend even though we didn't get all the results we expected. Brandon was sick and still recovering. He's also still learning how to ride a 1000. As the season goes on, we know his results will improve. Justin was pretty banged up after his off. He will be healthy by the next race and he'll be closer to the front. Jaret rode really well on Sunday. Maybe the best I've ever seen. As he gets used to the new motor, I expect him to continue to improve. And Kayla… What a tough break. She proved a few things this weekend: she is going to win some races this year and she is a lot of fun to watch," said team owner George Nassaney. "Huge Thank you to crew chief Eric Gray for all the off-season preparation to make the first weekend operate so smoothly. Thank you to our mechanics Robin Hawley, Johnny Luna, Blake Owens, and Dave Yaakov for all their hard work and finally to Ben Brown for keeping our truck top-notch to travel the country."